Akèy. Kréasyon sit.| Définisyon bann CD/DVD/ ext.|Trètman foto|
Kréol. English. Français. Deutschland.
Montaz audio.

Zimaz si zot gos : bann forma ou pé anrozistré, ou sinonsa lir.

Arla in lozisyèl lé vréman gayar po travay ansanm soundForges(lozisyèl péyan).
Zordizour mi travay sanm lo vèrsyon 8. Na pwin lontan la sort lo vèrsyon 9, i paré lé pli gayar, mé sanm lo 8 na travay po fé. Arla détrwa léfé ké zot i pé fé mé na si tèlman.

Na tèlman lo zisyèl trètman po lo son si lo marsé (Audacy logisyèl gratuit lé pa mal non pli), (CoolEdith pro lozisyèl péyan miltipist), (audition lo lozisyèl adobe ké lé an fèt CoolEdit, ké la été asté par lo group adob, in lozisyèl ké mwin la tèsté, lé pa fé po bann débitan é i konsome bonpé an rosours matéryèl. Na in takon program gratwi i fé osi biyn ké bann lozisyèl péyan, sakinn son gou é son bidzé
Po mwin konm mi travay ansanm séi inn dé méyèr lozisyèl si lo marsé po trèt bann son. Mé lo ti défo li lé pa miltipist, kèstyon po trèt lo son na ryin adir.
Danyèl Waro (Compresseur gate).SoundForges 8.
Sabouk (flanger).SoundForges 8
Compil multi otèr.SoundForges 8
Enregistrement wave Soundforges 8 reverb (source enregistrement live). Micro utilisé Shure sm 58 carte créative audigy 2
A part pour l'instant un des meilleurs sur le marché du traitement numérique soundforges 8 est compatible, avec ses congénères, Acid 5 et 6 qui traite le son 5.1, compatible avec Végas vidéo. Faire du son en 5.1 n'est pas du tout évident et un investissement s' impose achat d'une carte qui 5.1, des enceintes qui gèrent tout ça.

Beaucoup de logiciels existent sur le marché, bien-sûr tout dépends de ce que l'on veut faire.

Un logiciel que j'ai essayé et qui me semble pas mal, et en plus il est gratuit, je veux parler d' Audacy qui fait quand même pas mal de chose si l'on veut débuter.

CoolEdith n'est pas mal non plus, qui a été racheté par adobe. CoolEdit devient Adobe Audition,
une très belle interface, il faut environ 300 MB d'espace disque, minimum de mémoire 256 MB 512 pour bien travailler. assez compliqué.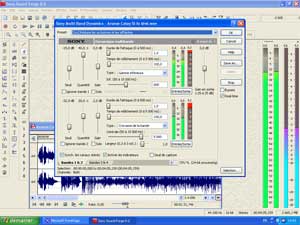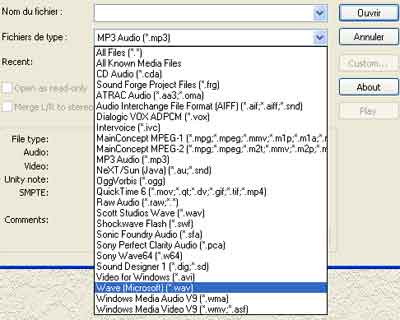 SoundForges 9.

Konm i di an kréol pa kapab lé mor san éséyé! Mwin la tèst lo vèsyon 9,
lé gayar. avèk so vèrsyon la zot lé kapab awar lo son an kalié 5.1 é osi lobann tèknik lo son i sort zordizour 7.1. Konm mi di pli o lo bann vèrsyon avan lo 9 i fé pa lo son surround, lé inpé réstrin konm i di.Avan pas sanm lo vèrsyon 9, fo déza métriz lo bann vèrsyon avan. I fo dir ké sanm sondforges 7, et 8, é minm lo bann vèrsiyon avan i pé fé déza pa mal zafèr.

Registration Soundforges wave 8 reverbs (source registration live).

Microphone used Shure sm 58 map creative audigy 2
To part for the meantime one of the better on the market of the treatment numeric soundforges 8 is compatible, with its fellows, Acid 5 and 6 that treat the its 5.1, compatible with Végas video. To make the sound in 5.1 is not at all obvious and an investment imposes itself purchase of a map that 5.1, of surrounding walls that manage all that.

A lot of software exist on the market, well-sure all depend what one wants to make.

A software that I tried and that doesn't seem me pain, and in addition it is free, I want to speak of Audacy that makes nevertheless quite a lot of thing if one wants to start.

CoolEdith is not pain no more, that have been purchased by adobe. CoolEdit becomes Adobe Audition, a very beautiful interfacing, it is necessary to 300 MBS of space disk thereabouts, minimum of memory 256 MBS 512 to work well. enough complicated. évit amwin asté dot lozisyèl.

Na in takon si lo marsé lé gayar, mé lé sèr. Anpami mwin la tèsté, flash lé gayar mé asé konpliké, mé na in takon tuto si lo Web po édé. Avan macromédia té an konkirans, astèr mi krwa ké zot la fizioné la game adobe i grosi puisk tout lo bann prodwi i ékivo.(Dreamweaver,Golive,flash,firework...)
Tansyon pangar! an oi bann program lé gratwi et lé pa mal é la plipar i konkirans biyn bann sat lé profésyonèl(na si tèlman po fé in swa tap dann google logiciels créations sites web gratuit).

Anski konsèrn lo grafism lo méyèr a mon avi sé Photoshop(péyan),son konkiran The Gimp(gratwi) lé osi pèrforman.

Konm dann tout zafèr i fo ésèy in paké avan trouv in program lé a out gou. Bann lozisyèl gratwi lé osi pèrforman ké sat lé péyan.

Anski konsèrn frontpage li lé limité po in bonpé zafèr. I fo osi in bon konésans html, php... po awar in sit korèr konm dann tout logisyèl fo fé bann sit web.

Sat i inm sit ansanm flash sé in lozisyèl i fé gayar nafèr mé li lé asé lour, si ou na inn ti konèksyon intèrnèt, épi fo biyn métriz bann script.
An pasan par lo pil sinpl mwin la swasi po fé mon bann sit Frontpage, pa pars lé pli fasil, mé sinpleman koté pratik puiské li lé livré ansanm sistinm èsplwatasyon Windows, i
Registrierung Soundforges schwenken 8 reverbs (Quelle-Registrierung lebt).

Mikrophon gebrauchter Shure sm 58 Landkarte kreativer audigy 2 
Um einen vom Besseren im Augenblick auf dem Markt der Behandlung zu teilen Zahlen soundforges 8 ist vereinbar, mit seinen Kerlen, Säure 5 und 6 dieses Vergnügen das seine 5.1, vereinbar mit Végas-Video. Den Klang in 5.1 zu machen ist bei nicht total offensichtlich, und eine Anlage zwingt sich Ankauf einer Landkarte auf der 5.1, von umliegenden Mauern, die alle leiten, der.

Viel Software existieren Sie auf dem Markt, gut-sicher alle hängen ab, welches man zu make.  will,

Eine Software, die ich versuchte, und das scheint nicht ich, schmerzen Sie, und außerdem ist es frei, ich möchte von Audacy sprechen, der ganz viel Sache trotzdem macht, wenn man zu start.  will,

CoolEdith ist, schmerzen Sie kein mehr nicht, die sind von adobe gekauft worden. CoolEdit wird Adobe Audition ein sehr schönes Einbinden, es ist da herum zu 300 MBS von Raum-Diskette notwendig, Minimum von Gedächtnis 256 MBS 512 gut zu arbeiten. genug komplizierte.